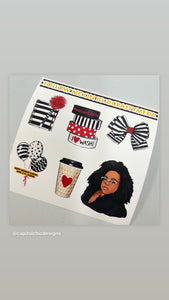 Contact Cards - NO COUPON USAGE
Hello!
Update:
The contact cards have changed and the listing is small. What you see in the picture is all we can offer right now. To get these done for you quickly. We will only switch out to your doll. Keep reading below on what we need.
If you have a CUSTOM DOLL, we will make it into a half body image to fit this box.
Do you have a custom doll from CCD?
Well, we are offering your own contact cards for any occasion! We understand that our customers are petty and don't like to share their bigger dolls. We totally get it! So, we have created a card of stickers and personality for you to carry around with you. 
Size of Contact Cards: 4 H x  4W
See the pic for your options.
Here's what we need in the comment section:
1. What is your Instagram name?
2. When is your birthday and your Zodiac sign. Example - June 11th - Gemini
This listing is for 15 Contact Cards. Buy as many sheets as you like! You get 15 to a sheet.
FAQ:
What am I getting for this price? Please read above. 
What if I don't have a custom?
You can choose ONE of the JAM or SAM dolls only. (NOT JAM AND SAM together).