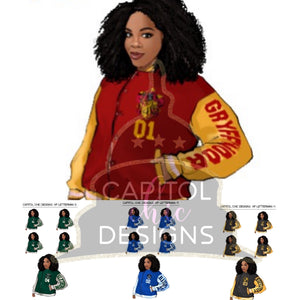 Custom HP Letterman Jacket (House Edition)
Hello!!
Thank you for choosing us for your custom image! 
Once we see your order, we will contact you within 24-48 hours to get started.
Our first custom event went pretty well, so why stop there!
We've already created the image for you and all we need from you are three things.
A picture of your face, your hair and what house do you represent. Dassit!!

Here's what you will get!
HALF BODY DOLL OF YOURSELF AND SOME COOL STICKERS:
8 - 2 INCH STICKERS
36 - 1 INCH STICKERS (approximately)
PLEASE SEE THE PHOTO OF THIS.
 IF YOU WANT DIGITAL ONLY - FOR THOSE WHO WANT TO PRINT THEIR OWN DOLL  PERSONAL USE ONLY. NO STICKERS INCLUDED. Send us an email, there is a fee associated with this option.
Very Important:
If you purchase a custom doll and DO NOT purchase the full rights to the doll, your image may be used in future Michaels releases and products. 
If you do not respond to the initial email regarding your custom order within 30 days your custom will be refunded.
If you start your custom and the artist has drawn your image, and you do not respond to emails within 30 days, you will incur a $40.00 fee and the remainder of your purchase price will be refunded. You will NOT receive your custom and the face will be changed. 
Any custom that has not been completed within six months, will not be refunded.
People tend to pay for customs and forget about it. We do not have time to chase anyone down. Please be respectful of our time as we are of yours. 
*After purchasing, the digital image may be used for personal, non-commercial use only. The digital image may be used by one person (the purchaser) for printing for personal use or display on personal electronic device. The purchased image may be temporarily transferred via digital media to professional printer, for personal use only. No digital images may be shared or copied. You may not sub-license, sell, or distribute image.*
*NO DISCOUNTS CAN BE USED ON CUSTOM PURCHASES*